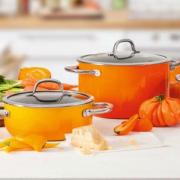 Eating is more than just ingesting food, and cooking is more than just preparing meals. Together, they represent a social event that unites people across borders, cultural groups, generations and viewpoints. Cooking is part of any busy, colorful life.
Since the Silit brand was introduced in 1920, we have been developing products that make cooking a simpler, more beautiful, quicker and more sustainable experience. In doing so, we have always focused on the needs of our customers. With precise, Made in Germany workmanship and the highest standards when it comes to function, ergonomics and aesthetics. 
This is the basis of our authenticity. So over more than 90 years, Silit has become a brand that people around the world are happy to trust on a daily basis.
Natural cooking with Silargan.
Silargan® is the perfect material for everyone who likes to cook naturally with authentic-tasting results. Developed by experts, Silargan® preserves the full taste and natural aroma of every single ingredient.
Silit has therefore caused a minor revolution in the cooking world. And that's what makes a culinary expert: a blend of knowledge, experience and ground-breaking innovations.
For everyone who wants to wholeheartedly enjoy the full flavour and natural aroma of the ingredients used in cooking, Silargan® is the perfect material. The unique functional ceramic with its non-porous closed surface is both cut- and scratch-resistant and sets new standards for health-conscious cooking.
So that food naturally tastes better, Silargan® leaves nothing to be desired and makes no compromises: With a nickel-free surface. With quick heat conduction and optimum heat retention for energy-saving cooking. Available in lots of fresh colours to suit all tastes.
Silargan® products stand for innovation and the ultimate "Made in Germany" quality, as well as sustainability and energy-efficient functionality. Because we are convinced of its high quality level, we offer a 30-year warranty on our functional ceramic.
https://www.wmf.com/en/company/global-consumer-goods/brands/silit.html